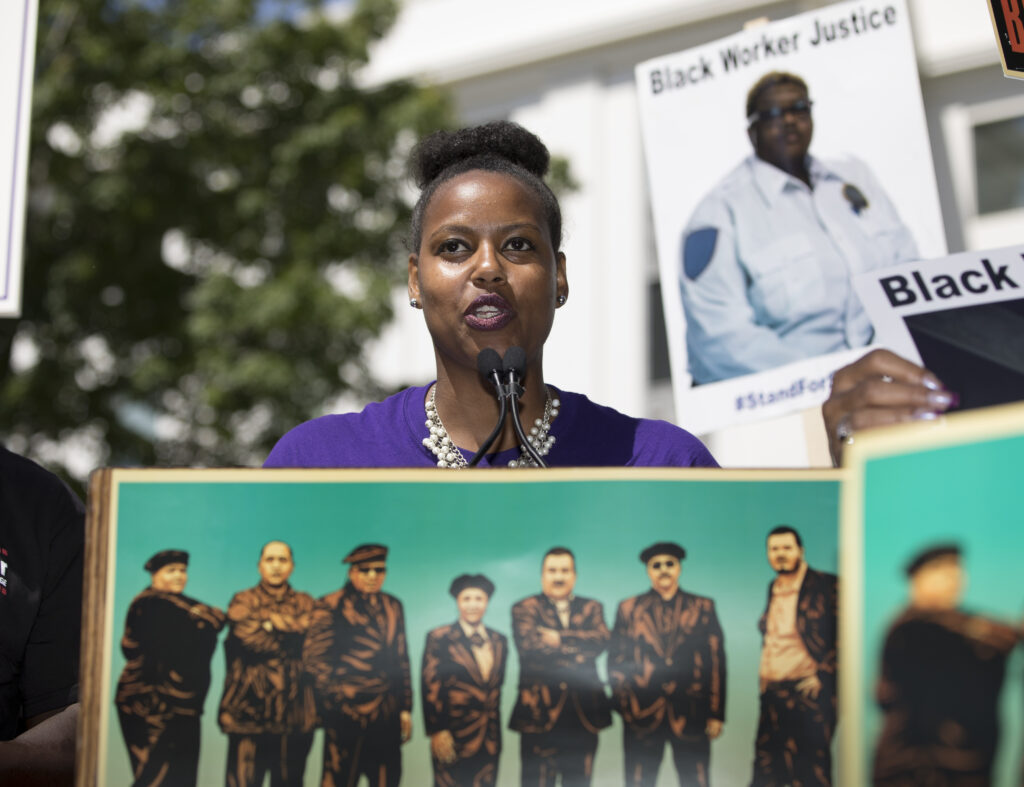 Heal Black Futures
Greater protections for Black workers facing discrimination
Systemic change that transforms the local economy
An important step towards creating equal opportunity in workplaces across the City of Los Angeles is local enforcement of California's Anti-Employment Discrimination laws. However, the State of California preempts legislative action that duplicates the purpose of the Fair Employment and Housing Act—making it difficult for Black workers to seek accountability and justice from employers who break the law. To ensure Black workers have equitable access to quality jobs, there needs to be comprehensive, strategic, and creative approaches to strengthen workers' rights in the City of Los Angeles. This includes utilizing the City's contracting power and addressing employment discrimination through a public health lens. In 2017, we brought together a broad coalition of workers, organizations, labor unions, civil rights advocates, and allies to lead the Heal Black Futures campaign, also known as the Anti-Discrimination Campaign. Our coalition Black Workers United advocated for the State of California to adopt Senate Bill (SB) 491 which would give local governments authority to enforce California Fair Employment and Housing Act laws within legal boundaries. This was crucial to fill the enforcement gap created by then President Donald Trump's administration's cuts to civil rights protections nationally. Only when local governments can urgently and thoroughly address discrimination claims could Black workers get back to work faster and recover lost wages.
Employment discrimination is a moral and economic crisis that affects every Californian.
Our movement "#BlackWorkersUnited" to #HealBlackFutures" successfully moved then Governor Jerry Brown to publicly support the need for California to strengthen employment discrimination protections at the local level. Governor Brown issued a directive to establish a workgroup to review and report back findings on how local governments can implement California's anti-discrimination laws in the workplace. Though SB 491 fell short of being signed, the Governor made it clear that "it is time" for the State to pay greater attention to this issue. To this day, we continue to make progress in creating discrimination-free worksites across California. We will not be stopping any time soon until we build an equitable economy where Black workers, families, and neighborhoods thrive.
4000+ signatures
We gathered wide support for the expansion of anti-employment discrimination protections through our petition.
45+ groups
We built a strong coalition of diverse community organizations to bring justice to Black workers.
22+ actions
We organized 8 lobby days, 10 rallies, 4 press conferences to advocate for the passage of SB 491, on top of staging an art exhibit on State Capitol Lawn and a Hollywood play.
Fund our racial justice movement
Explore our past campaigns
Explore our website to learn more about our community and the movement we're building.