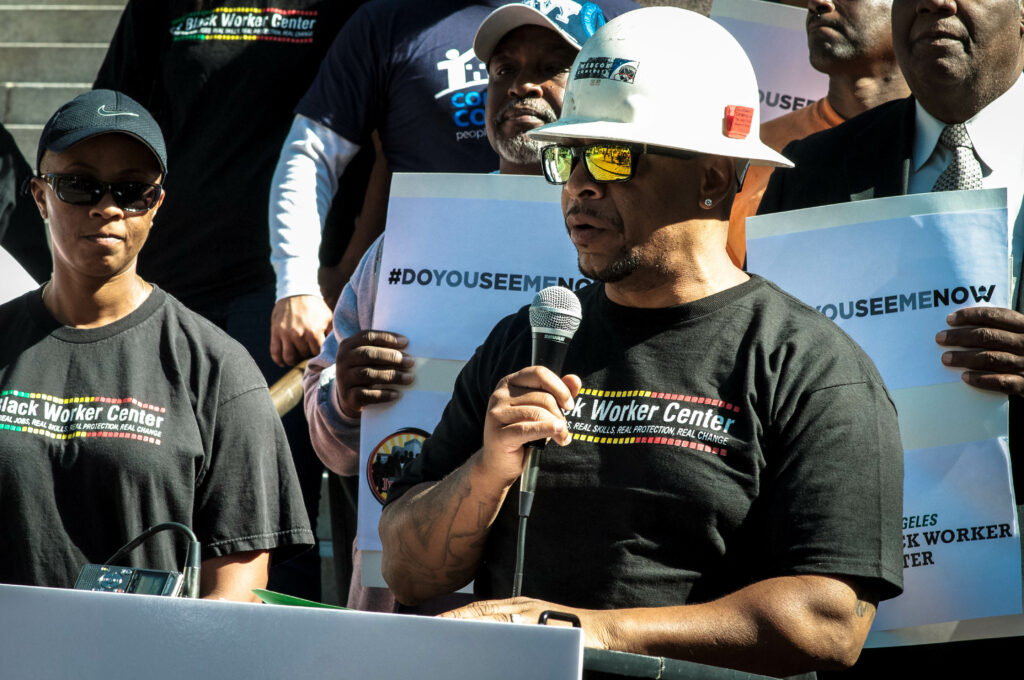 Equity, Transparency, and Accountability
Equal opportunity in the construction industry
Improving quality job access for Black workers
Black workers are grossly underrepresented in the construction sector in Los Angeles. Our Black community represents 9% of Los Angeles County's population and 10% of all new construction apprentices. However, we make up only 4.9% of the construction workforce. Black representation on publicly funded projects in Los Angeles is even lower, hovering around 3%. Through the Equity, Transparency, and Accountability campaign, Black workers demanded equal opportunity in the construction industry. We advocated for stronger anti-discrimination language in Project Labor Agreements (PLA) and local hire policy to ensure equitable access to publicly funded construction sector jobs. This included Metro's PLA which establishes the terms of work site conditions and dispute resolution for Metro construction projects—and requires hiring workers from economically disadvantaged neighborhoods and backgrounds.
Our campaign helped hold employers and officials accountable, such that in one year the number of Black workers on the Crenshaw-LAX line increased from 2% to 19%.
The need for good jobs and anti-discrimination protection in the public sector
In 1996, California passed Proposition 209 which prohibited state governmental institutions from considering race, sex, or ethnicity in the areas of public employment, public contracting, and public education. Its passage made it difficult to demand equitable representation of Black workers on publicly funded construction projects. But through the efforts of local unions, the City of Los Angeles recognized the need to address the underrepresentation of Black workers in the local workforce and established apprenticeship programs. While this provided some improvement, Black workers have continued to be severely underrepresented in union construction jobs. Local hire provisions in PLAs have sometimes improved women and people of color's access to construction work around the country. However, they have been most successful when coupled with monitoring, oversight, and enforcement efforts. Contractors and sub-contractors elude anti-discrimination mandates by following the letter, but not the spirit, of PLAs and local hire laws. Political leadership is needed to set expectations for diversity and non-discrimination in public works. At the same time, policy is needed to protect workers and to set forth monitoring and oversight mechanisms that prevent discrimination. Contractors, unions, workers, and our extended Black community must work together to meet these challenges and create equitable access to quality jobs for all workers.
Fund our racial justice movement
Explore our past campaigns
Explore our website to learn more about our community and the movement we're building.