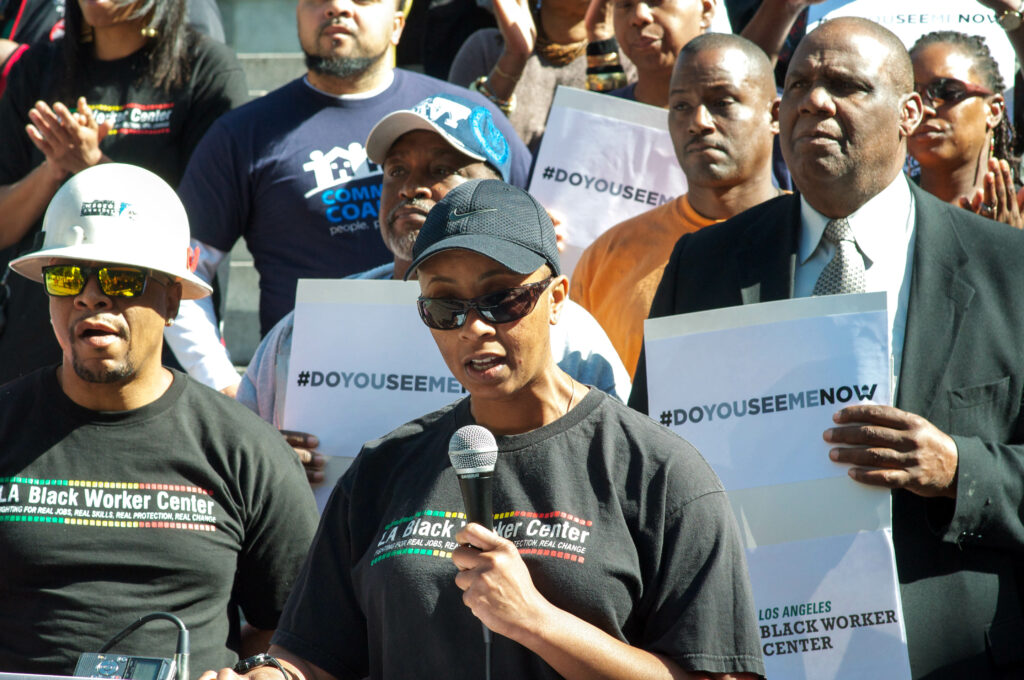 Do You See Me Now
Uplifting the positive impact of Black workers on our local economy
Skilled Black workers exist in Los Angeles
Worksites across Los Angeles do not truly reflect the diversity of our communities. Despite local hire initiatives and laws that prohibit discrimination, Black workers face major barriers to access and retention of quality work. The Do You See Me Now campaign was an effort to shed light on our invisibility in Los Angeles, fighting the dominant narrative that there are not enough qualified Black workers for quality jobs in our city. Through robust monitoring and enforcement of existing anti-discrimination laws, we called for greater economic opportunities in public infrastructure projects that benefit Black workers, our communities, and our families.
Public investments in job opportunities for Black workers
As a part of this campaign, we developed the Community Compliance Monitoring Project (CCMP) to ensure public works projects, policies, hiring practices, and co-produced enforcement strategies strengthened Black participation in publicly funded construction. Bringing together employers, workers, and community members, including contractors, unions, and elected leaders, the CCMP provided a model for addressing hiring compliance gaps in the city's construction industry. We utilized worker organizations and agencies to collectively monitor and track the employment of Black workers across construction sectors. Worker committees would then regularly publish reports that identified key recommendations that would influence local policies. Our campaign helped hold employers and officials accountable, such that in one year the number of Black workers on the Crenshaw-LAX line increased from 2% to 19%. Through robust and vigorous monitoring and enforcement, the CCMP provided the foundation for building a local workforce that was more diverse and representative of our community.
Fund our racial justice movement
Explore our past campaigns
Explore our website to learn more about our community and the movement we're building.